In ihrer schonungslosen Analyse der Internet-Überwachung zeigt Shoshana Zuboff auf, wie Google und Facebook hinter den Kulissen die Fäden ziehen, um die digitalen Spuren der Internet-Nutzer aufzuzeichnen, zu sammeln und zum Zweck der vorausschauenden Digitalwerbung (predictive advertising) zu monetarisieren. Daraus könnten sich auch Implikationen für das Recruiting ergeben, wenn die Global Recruiting Player wie Google, Facebook, LinkedIn oder Indeed ihre Big Data Tresore für entsprechende Datenanalysen öffnen.
John Naughton führte darüber ein Interview mit Shoshanna Zuboff, welches im Guardian veröffentlicht wurde.
'The goal is to automate us': welcome to the age of surveillance capitalism
Shoshana Zuboff's new book is a chilling exposé of the business model that underpins the digital world. Observer tech columnist John Naughton explains the importance of Zuboff's work and asks the author 10 key questions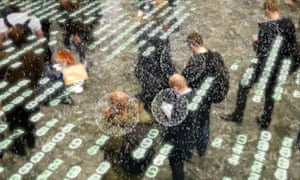 We're living through the most profound transformation in our information environment since Johannes Gutenberg's invention of printing in circa 1439. And the problem with living through a revolution is that it's impossible to take the long view of what's happening. Hindsight is the only exact science in this business, and in that long run we're all dead. Printing shaped and transformed societies over the next four centuries, but nobody in Mainz (Gutenberg's home town) in, say, 1495 could have known that his technology would (among other things): fuel the Reformation and undermine the authority of the mighty Catholic church; enable the rise of what we now recognise as modern science; create unheard-of professions and industries; change the shape of our brains; and even recalibrate our conceptions of childhood. And yet printing did all this and more.
Why choose 1495? Because we're about the same distance into our revolution, the one kicked off by digital technology and networking. And although it's now gradually dawning on us that this really is a big deal and that epochal social and economic changes are under way, we're as clueless about where it's heading and what's driving it as the citizens of Mainz were in 1495.
That's not for want of trying, mind. Library shelves groan under the weight of books about what digital technology is doing to us and our world. Lots of scholars are thinking, researching and writing about this stuff. But they're like the blind men trying to describe the elephant in the old fable: everyone has only a partial view, and nobody has the whole picture. So our contemporary state of awareness is – as Manuel Castells, the great scholar of cyberspace once put it – one of "informed bewilderment".
And now it has arrived – the most ambitious attempt yet to paint the bigger picture and to explain how the effects of digitisation that we are now experiencing as individuals and citizens have come about.
The headline story is that it's not so much about the nature of digital technology as about a new mutant form of capitalism that has found a way to use tech for its purposes. The name Zuboff has given to the new variant is "surveillance capitalism". It works by providing free services that billions of people cheerfully use, enabling the providers of those services to monitor the behaviour of those users in astonishing detail – often without their explicit consent.
"Surveillance capitalism," she writes, "unilaterally claims human experience as free raw material for translation into behavioural data. Although some of these data are applied to service improvement, the rest are declared as a proprietary behavioural surplus, fed into advanced manufacturing processes known as 'machine intelligence', and fabricated into prediction products that anticipate what you will do now, soon, and later. Finally, these prediction products are traded in a new kind of marketplace that I call behavioural futures markets. Surveillance capitalists have grown immensely wealthy from these trading operations, for many companies are willing to lay bets on our future behaviour."
Weiterlesen: Guardian